Decatur Clear Aligners
Nobody Will Know You're in Treatment
Clear aligners from Clinebell & Anderson Orthodontics give you a clear way to straighten your teeth without braces.
Both teens and adults can reach straight smiles without anyone noticing through clear aligner treatment from Dr. Clinebell and Dr. Anderson.
All About Clear Aligner Treatment
Like many people living around Decatur, you may want the confidence that comes with straighter teeth, but you're not thrilled about the idea of wearing braces for treatment.
Spark clear aligners can straighten your teeth without wires and brackets using a series of clear, customized, removable appliances called aligner trays. These are virtually transparent and almost undetectable, which means hardly anyone will know that you're straightening your teeth.
Spark clear aligners are made of durable plastic or see-through, BPA-free material. These clear aligners are customized, comfortable, and removable, too. In appropriate cases, Dr. Clinebell and Dr. Anderson can use clear aligners to effectively straighten teeth without brackets and wires.
How Does Clear Aligner Treatment Work?
With Spark clear aligners from Clinebell & Anderson Orthodontics, you'll be smiling everywhere you go. Using a 3D scan of your teeth, we'll create a series of plastic aligners tailor-made to fit your unique smile.
You'll wear your clear aligners for 20-22 hours per day, so you can take them out to brush your teeth, eat, and play sports. These trays are more comfortable, hygienic, and easier to use than other treatment options. You'll love your clear aligner smile!
1. See Us for a Free Consultation
At your first free consultation appointment, Dr. Clinebell or Dr. Anderson will sit down with you, evaluate your teeth and listen to you describe the results you want.
We'll also talk about your financial needs to make sure your clear aligners fit your budget.
If Dr. Clinebell or Dr. Anderson decides that using Spark clear aligners gives you the best solution to help you reach the smile you want, we'll talk you through your affordable financial options to best fit your family.
3. Wear Your See-Through Trays
After receiving your clear aligners, you should wear them as much as possible, but you can easily remove them for eating, flossing, and brushing.
You'll come into Clinebell & Anderson Orthodontics for appointments about every four to six weeks to pick up your new sets of clear aligners and let Dr. Clinebell or Dr. Anderson check on your treatment progress. These checkups go pretty fast and painless because you won't have any wires to check or tighten.
2. Make a Plan
Our Clinebell & Anderson Orthodontics team will take digital pictures and X-rays of your teeth and use these to create your treatment plan.
You'll get a treatment plan with a personalized series of removable Spark clear aligners that will shift your teeth in stages.
Dr. Clinebell or Dr. Anderson will calculate your clear aligners to move your teeth to a precise spot.
You can see a digital picture of your final teeth results before you even start treatment at our Decatur office.
State-of-the-Art Treatment
Spark clear aligners use a state-of-the-art method of straightening your teeth. This treatment uses clear aligners that Dr. Clinebell and Dr. Anderson customize only for your teeth and bite.
These aligners are made of smooth, comfortable, and virtually invisible plastic that you wear over your teeth. Wearing the aligners will gently move your teeth into place little by little, based on the exact movements Dr. Clinebell and Dr. Anderson prescribed for your smile result.
There are no metal brackets to attach and no wires to tighten. You just pop in a new set of aligners about every two weeks until your treatment is complete.
At Clinebell & Anderson Orthodontics, you can reach a stunning smile without a treatment interfering with your lifestyle. The best part about clear aligners is that people around Decatur won't even be able to tell you're in orthodontic treatment.
Clear aligner technology has vastly improved over the years and can be used to handle various simple and complex cases. From crowding to spacing, underbite to overbite, Dr. Clinebell and Dr. Anderson can use clear aligners to help you reach your perfect smile.
Clear aligners aren't just for adults! If your teenager bristles at the thought of sporting metal brackets, talk to Clinebell & Anderson Orthodontics about Spark clear aligners.
Dr. Clinebell and Dr. Anderson want our teenage patients to look forward to straight teeth, and clear aligners help do the trick. Because Spark clear aligners come in transparent plastic, your teenager's friends probably won't even know they're in treatment at Clinebell & Anderson Orthodontics.
Whether your teen plays sports or plays in the marching band, your teen can participate in all their normal activities without the barriers presented by traditional braces. See Dr. Clinebell and Dr. Anderson for a free consultation, and you'll find out if Spark clear aligners might fit your teen's smile and lifestyle!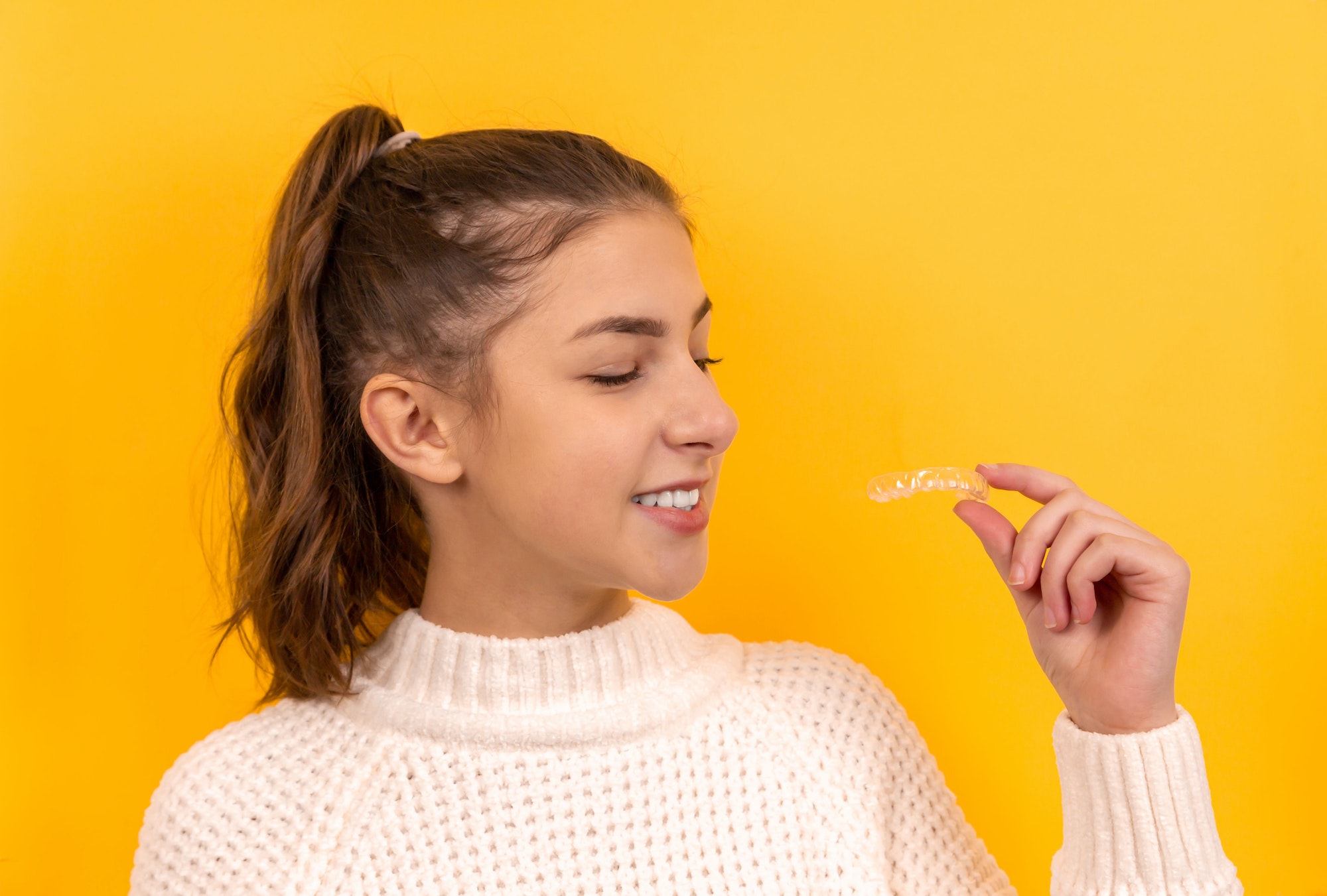 Learn More About Clear Aligners
Spark clear aligners can give you a subtle but strong orthodontic treatment option, but Dr. Clinebell or Dr. Anderson will let you know about the treatment options that will work for your teeth, bite, and lifestyle. Before choosing clear aligner treatment over braces, you'll need to make sure you will wear your aligner trays, keep them clean and keep up with your new trays.
After your clear aligner treatment, Dr. Clinebell and Dr. Anderson will prescribe a retainer to make sure you preserve your new straight teeth and stunning smile.
Schedule your free consultation at our Decatur office to learn if Spark clear aligners are right for your smile.